Start Your Weight Loss Journey
Gastric Sleeve Surgery in Turkey
Are you ready to start a new healthy life? Take the first step today ✨
The Turkey Bariatrics Difference
Highest Safety Standards
JCI Accredited Hospital
Your surgery is performed in a JCI Accredited, fully equipped hospital with international standards of excellence.
SRC Accredited Master Surgeon
Your surgery is performed by an SRC Accredited Master Surgeon who has performed more than 2,500 successful surgeries.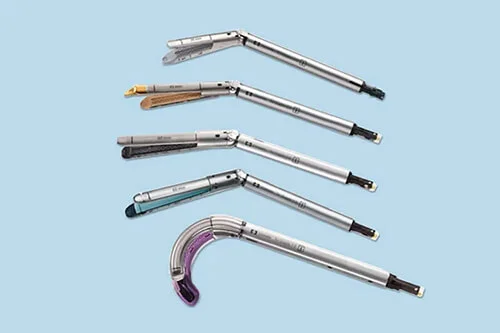 Tri-Staple™ Technology
Your surgery is performed using Tri-Staple™ technology, which prevents postoperative bleeding and leakage.
Everything went so smoothly. Hospital was very clean and staff was friendly and helpful. I am so happy with my experience. Highly recommended.
— Paige R.
What is Included
All Inclusive Gastric Sleeve Package in Turkey
We want your treatment and travelling experience in Turkey to be as comfortable, safe and stress-free as possible. For this purpose, we offer all-inclusive packages that cover all the services and fees you may encounter before and after the operation.
At the same time, we plan every detail about your treatment process for you. Our aim is to ensure that you focus only on your operation. Leave the rest to us.
Our all-inclusive packages include:
Accommodation of a travel companion
Hospital and hotel accommodation
Airport, hospital and hotel transfers with private driver
Preoperative and postoperative tests
Postoperative medication
Multivitamin and protein supplements
Nutritional support
1 year follow-up
Learn more about prices
Why Choose Us
Reasons to Choose Turkey Bariatrics
SRC Accredited Master Surgeon
Surgery performed by the first surgeon with "Master Surgeon in Metabolic and Bariatric Surgery (MSMBS)" certificate in Turkey. 10+ years experience. More than 2500 surgeries.
JCI Accredited Hospital
Accommodation and treatment in a private hospital with Joint Commission International (JCI) certification. Health care at international standards. High technology.
Complete Diagnostics
ECG, Ultrasound and X-ray imaging. Detailed consultation by Cardiology, Radiology, Internal Medicine, and Anaesthesia specialists. Endoscopy during surgery.
A Companion
4 nights free accommodation for the accompanying person. 3 nights at the hospital, 1 night at the partner hotel. Including three meals at the hospital. Breakfast is included at the hotel.
All Inclusive Package
All medical services, medications, protein & multivitamin supplements, hotel, VIP transfer included in the price. No hidden fees. No extra cost.
Free Nutritional Support
12 months support from "SRC Care Specialist" certified bariatric dietitian. Via WhatsApp.
Start a Healthy New Life
Safe and Affordable Weight Loss Surgery in Turkey
At Turkey Bariatrics, we have been providing bariatric surgery services for more than 10 years. In the process, we have helped thousands of patients from around the world achieve their weight loss goals.
If you are considering a gastric sleeve surgery in Turkey, take advantage of our expertise and many years of experience in bariatric surgery. We are here to guide you through every step of your weight loss journey.
About us
4 Nights · Minimum BMI 30
Gastric Sleeve in Turkey
Gastric sleeve surgery, also called "sleeve gastrectomy", is the most common bariatric surgery procedure in the world. During the operation, about 80% of the stomach is removed, leaving a small banana-shaped stomach. In this way, you will eat less food, feel full more quickly and lose weight.
If your Body Mass Index is 30 or above, you may be a suitable candidate for a gastric sleeve surgery in Turkey. Contact us for a personal and non-binding consultation. We will be pleased to provide you with detailed advice.
Find Out More
4 Nights · Minimum BMI 35
Gastric Bypass in Turkey
Gastric bypass surgery, also called "Roux-en-Y gastric bypass", is an effective weight loss surgery especially for patients with morbid obesity and type 2 diabetes. During the operation, a small pouch is created from the stomach and this newly created pouch is connected directly to the small intestine.
As your stomach volume shrinks, you will eat less food. At the same time, as your digestive system changes, you get fewer calories from the food you eat. Therefore, the gastric bypass surgery is very effective.
Find Out More
Requirements for Gastric Sleeve in Turkey
If you meet the following conditions, you may be a suitable candidate for a gastric sleeve surgery in Turkey. Feel free to contact us for more information.
Your body mass index is 30 or above
You have tried to lose weight with diet and exercise but failed
You are ready to make permanent lifestyle changes in your life
If you do not know your current body mass index (BMI), use our BMI calculator to find out.
Calculate Your BMI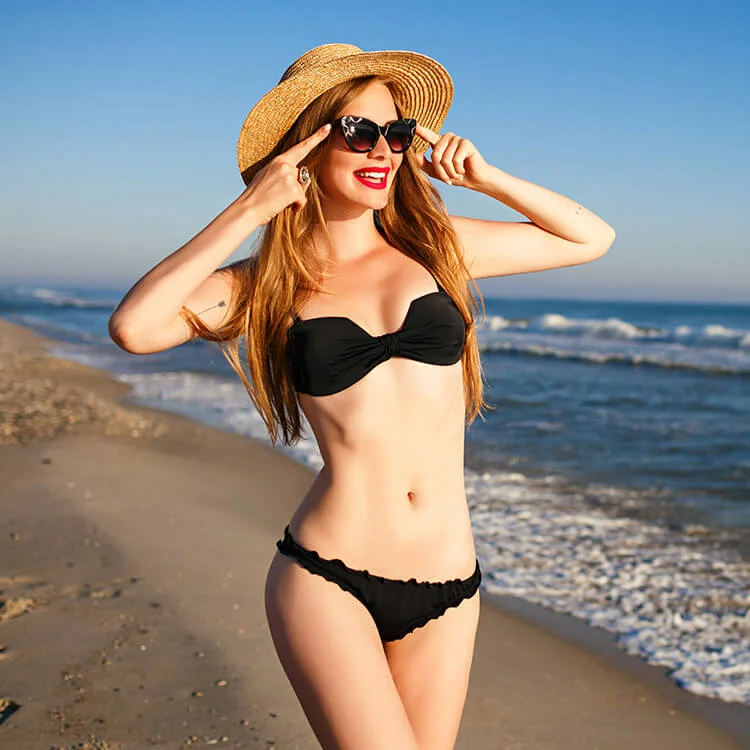 Patient Success Stories
Weight Loss Surgery Turkey Before and After Photos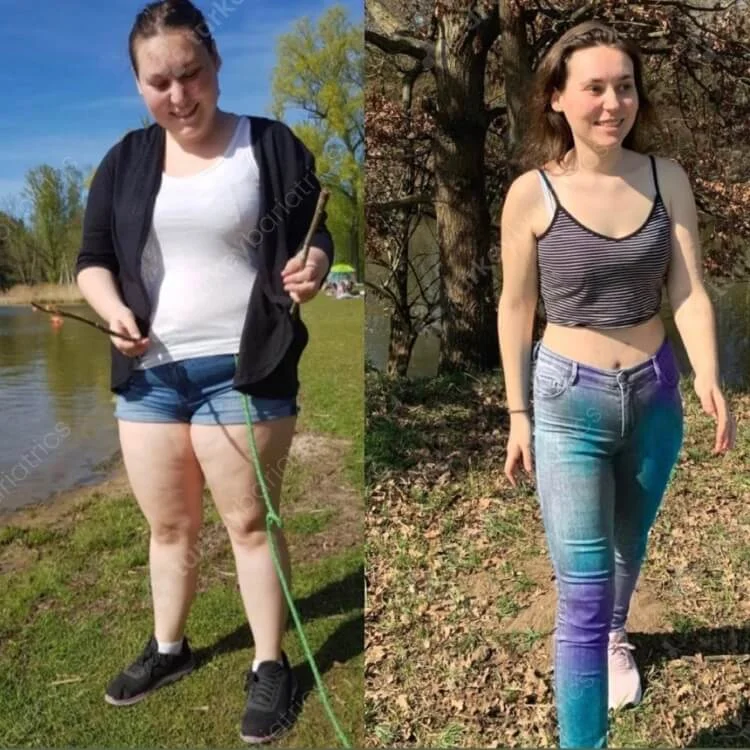 Frequently Asked Questions
FAQs About Gastric Sleeve Surgery in Turkey
How much does gastric sleeve surgery cost in Turkey?

Gastric sleeve surgery cost in Turkey varies depending on the experience of the surgeon who will perform the surgery, the standards and location of the hospital, the quality of the medical supplies to be used during surgery and the individual needs of the patient. Prices are usually between £3,000 and £4,500.
How safe is a gastric sleeve surgery in Turkey?

Gastric sleeve surgery is a safe procedure when performed by an experienced surgeon in a fully equipped hospital. At Turkey Bariatrics, your surgery is performed by an experienced surgeon with "SRC Master" certificate in a private hospital accredited by JCI.
How many days should I stay in Turkey for gastric sleeve surgery?

You need to stay in Turkey for at least 5 days for gastric sleeve surgery. Depending on your general health condition, you will spend the first 3 or 4 days in hospital. After 1 or 2 nights in a hotel, you can safely return to your home country.
What is the age limit for gastric sleeve surgery in Turkey?

People between the ages of 18-65 and with a Body Mass Index of at least 30 can undergo gastric sleeve surgery in Turkey. For those under 18 years of age, parental consent is required for surgery. For those over 65 years of age, the decision is made by taking into account the person's additional diseases (blood pressure, diabetes, etc.) and general health status.
How much do I need to weigh for gastric sleeve surgery in Turkey?

Body weight does not play a major role in gastric sleeve surgery. The critical factor is the Body Mass Index (BMI). BMI is calculated as body weight (kg) divided by the square of height in metres (m²). The BMI for gastric sleeve surgery in Turkey must be at least 30. For example, a person with a height of 1.65 metres should be 82 kg and above to undergo a gastric sleeve surgery. You can calculate your Body Mass Index here.
How many days before the gastric sleeve surgery should I come to Turkey?

In order to make the necessary preparations for the surgery more comfortable, we recommend our patients to come to Turkey 1 day before the surgery. However, depending on your flight, you can also arrive in Turkey on the morning of the operation.
Can I bring a companion with me?

As you will be in Turkey for 5-6 days, it may be helpful to travel with a friend or family member who will help you during the care process. There are beds available for your companion in the hospital. They can also stay with you during your hotel stay. Of course, free of charge.
Does the health insurance company cover the cost of gastric sleeve surgery in Turkey?

Gastric sleeve surgery cost is only covered by the health insurance in individual cases. Gastric sleeve surgery abroad is generally not approved by health insurance companies. You should contact your health insurance company for more information about reimbursement of the expenses in Turkey.
Which airlines fly to Antalya?

easyJet and Jet2.com have direct flights from the UK to Antalya (AYT). You can also find tickets at Turkish Airlines, Sun Express, Wizz Air, Lufthansa and Corendon. One-way non-stop (direct) flight from England to Antalya takes approximately 4.5 hours.
Which is the best clinic for gastric sleeve in Turkey?

If you are interested in a gastric sleeve in Turkey, you may be looking for the best clinics. Having surgery in a hospital that offers healthcare services at international standards makes your treatment experience abroad safe and comfortable and minimises your concerns about the surgery.

Joint Commission International (JCI) accreditation, considered the "gold standard" in global healthcare, means you will receive the highest quality healthcare. There are 39 hospitals accredited by JCI in Turkey. You can take a look at the list here.

In Turkey Bariatrics, your operation will be performed at Medstar Antalya Hospital accredited by JCI. With us, you're on the safe side.
Bariatric Surgery: Types & Requirements

What is bariatric surgery?

Bariatric surgery is a speciality of abdominal surgery. The purpose of the surgical procedures is to reduce the weight of the affected person if there is severe overweight. Here, the doctor reduces the volume of the stomach. Such a procedure not only achieves weight loss, which has a positive aesthetic effect, but also has a positive effect on the entire metabolism. In many cases, this also leads to a reduction in blood sugar levels, especially in diabetics.

When is obesity present?

Obesity refers to a disease that involves being severely overweight. Today, the so-called body mass index (BMI) is used to calculate overweight, normal weight and underweight. The BMI is therefore a value that can be calculated from the height and weight of the person. This means that it can be used in medicine to classify body weight. A healthy normal weight is considered to be a BMI of 20 to 25, whereas obesity only exists from a BMI of 30. Severe obesity is also divided into three different grades:

Grade I = BMI > 30
Grade II = BMI > 35
Grade III = BMI > 40

A long-term increase in body fat increases the risk of comorbidities. These include, above all, high blood pressure, diabetes mellitus, lipometabolic disorders and also some cancers.

What are the different types of bariatric surgery?

There are many different types of bariatric surgery. Slight differences arise mainly because the technique varies depending on the surgeon and the country where the procedure is performed. Below we present the four most popular weight loss options. Note, however, that the exact details of these procedures may vary slightly depending on your individual circumstances and goals.

Gastric balloon

The gastric balloon is the only non-surgical method. The gastric balloon fills the stomach using its own volume. The balloon itself is usually made of plastic or silicone. The filling level of the stomach can thus be increased even after a small intake of food. After about six months, however, the surgeon usually removes the gastric balloon again.

Since the balloon only stays in the body temporarily, this method is often used when very obese people are preparing for stomach surgery.

Gastric sleeve

In sleeve gastrectomy, the surgeon surgically removes a large part of the stomach so that it is reduced in size. In its shape, the stomach resembles a sleeve, hence the term "gastric sleeve". This reduction in capacity means that smaller portions are sufficient for satiety.

Gastric bypass

This procedure not only reduces the size of the stomach, but also shortens the digestive tract. This means that the surgeon reconstructs the digestive tract so that the ingested food goes from the upper stomach area directly to the lower parts of the intestine. As a result, the body can also absorb fewer calories and nutrients. Thus, especially with this method, there is often a nutrient deficiency that should be supplemented with certain preparations.

Gastric band

Here, the surgeon ties the stomach with a certain band so that it can absorb significantly less food. In this procedure, the doctor places the band around the stomach near the entrance to the stomach, thus narrowing it. As a result, the feeling of satiety sets in after just a small portion.

What is life like after a gastric sleeve?

You should note that you will lose weight quickly in the first few months after the operation. However, your organism is not used to the low calorie intake and must first slowly get used to it. In order to lose weight after the procedure, you should change your diet in the long term. First, your eating habits have to adapt to the size of your stomach, as you will not be able to eat the same amounts after the operation as before.

Especially in the first few weeks after the operation, you should avoid solid food. This means that you should only eat liquid and soft foods. An example would be pureed food. Basically, you should eat smaller portions after a gastric sleeve operation and make sure that you always chew your food well. Try to avoid bad high-fat and high-sugar foods as much as possible, especially to lose weight sustainably.

How much does a bariatric surgery cost?

The cost of the surgery depends on the treatment method. For example, the price of a gastric balloon starts at around £2,500 €. The other methods, on the other hand, are significantly more expensive. The insertion of a gastric band costs between £3,000 and £4,500, depending on the cost of the treatment. The price for a gastric bypass, on the other hand, is around 4,500€.

For whom is a gastric sleeve suitable?

A gastric sleeve in Turkey is an option for severely overweight people for whom conservative weight loss measures have not been successful. Since the gastric sleeve is a serious procedure, it should only be used as a last resort. The only exception is the gastric balloon: This is also suitable for patients who are moderately overweight. It can also be used in advance of a surgical gastric sleeve to lower the initial weight before surgery.

Does the health insurance cover the costs of a gastric sleeve?

The costs for a gastric sleeve are only covered upon application if certain criteria are met. As a rule, the costs are covered if the operation is accompanied by an interdisciplinary therapy concept and all conservative measures have been exhausted without success. In addition, the patient must credibly demonstrate his or her motivation to continue the weight-reducing measures.

For whom is a gastric sleeve suitable?

If you are considering Gastric sleeve in Turkey, make sure you have already made all possible attempts to lose weight. Only when all options have been exhausted can a gastric sleeve be performed. The gastric sleeve is therefore only a last option if all other options have not helped.

Otherwise, an operation can be performed if you suffer from extreme obesity, i.e. a BMI over 40. Even with a BMI over 35, this operation can be performed if secondary diseases are associated with being overweight. Such secondary diseases include type 2 diabetes, high blood pressure and sleep apnea disorders. In addition, before an operation, concomitant diseases and the ability to undergo surgery must be examined in order to limit possible risks.